Fighting noise and heat in the city
City dwellers: the first victims of noise and summer heat
37 million Europeans are exposed to sound levels that are harmful to their health and 11% of Parisians endure sound levels above the regulatory limit of 68 decibels. Why? Mainly because of road traffic.
At night, roads—mineral, impermeable surfaces—release the energy they accumulate throughout the day: they are Urban Heat Islands (UHI). In cities, this phenomenon is amplified, given the vast extent of these surfaces. The outcome? During periods of strong heat, city dwellers withstand temperatures that are higher than elsewhere. The increases in temperature could exceed 8°C by 2100.
– As a result, health is affected, leading to problems such as sleep disorders, breathing difficulties, hearing problems, stress, and more.
The response: a range of innovations
To fight noise and heat, European cities are working on several fronts by :
encouraging soft modes of transport and electric engines,
planting more greenery,
and improving the thermal and acoustic properties of materials used in roads.
The Life Cool & Low Noise Asphalt project is therefore part of a range of innovations introduced by Paris City Hall.
The undertaking: a principled partnership
Life Cool & Low Noise Asphalt is the fruit of a principled partnership between Paris City Hall, the firms Eurovia and Colas, and Bruitparif, a centre for technical assessment of the Paris region's acoustic environment.
As a proposal specially selected in 2016 by the EU's funding programme LIFE, this project enjoys funding from the European Commission amounting to around 1.3 million euros (of which almost 700,000 euros are for Paris City Hall).
Innovative surfacing produced by Colas and Eurovia
EUROVIA and COLAS have made three innovative formulas in bituminous road surfacing: two compacted coatings and one hot-cast coating.
They are designed to improve the acoustic and thermal properties of conventional surfacing while offering good mechanical properties.
What they have in common:
use of pale aggregate helps reflect light (albedo effect) and reduces Urban Heat Islands (UHI);
porosity of the aggregate helps retain more water and facilitates evaporation of this water, therefore cooling down the air during heat waves;
porosity is also an attribute that fights noise pollution by trapping road noise.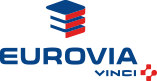 Puma® (Eurovia): hot-cast, pale-aggregate asphalt.
Puma® (porous urban mastic asphalt) offers innovative acoustic and thermal attributes while maintaining considerable mechanical properties and sustainability. The acoustic advantage of the porosity of its light aggregate is enhanced by the use of pozzolan. Once applied, the surfacing must be treated with shot-blasting to bring out the pale, porous aggregate at the surface.

BBphon+®: pale-aggregate acoustic surfacing.
This surfacing specially designed for urban areas and was modified to resist the impact of urban traffic in car parks and junctions, including the effects of mechanical cleaning. The water-retention capacity and highly pale aggregate of BBphon+ help restrict urban heat islands.

SMAphon®: pale-aggregate urban surfacing.
The acoustic qualities of this surfacing were improved by reducing the size of the aggregate particles, its constituent ingredients.
The aim is to decrease the road noise and improve acoustic absorption by 20%. SMAphon also includes highly pale aggregate with water-retention characteristics that limit the extent to which the road heats up under solar radiation.
Assessment and measurement of three pilot sites
The three chosen Parisian pilot sites meet several technical criteria: the absence of vegetation and exposure to the sun and high levels of noise. On each site, innovative surfacing spanning around 200 linear metres was placed next to conventional surfacing. The performance of each coating will be assessed up to 2027 via permanent noise monitoring stations, weather stations and thermal sensors directly in the road, introduced by Bruitparif and Paris City Hall. The aim of the Life Cool & Low Noise Asphalt project is to assess whether this project can be replicated throughout the rest of Paris and on a European scale.

Concrete figures after three years

The colour of the surfacing turns pale with use or following treatment, increasing its albedo. The paler the materials, the more they reflect light and the less they absorb heat, meaning less heat is retained overnight. During heat waves, spraying water on the porous surface will accentuate this effect.
An actual temperature decrease of around
An apparent temperature decrease of around

Unlike ordinary coating, the surface of the coatings applied is not smooth but porous and is comprised of micro-cracks that trap sound waves.